This isn't my first time to Krabi but in my previous trip, I was there more for the yoga retreat and I merely extended my stay by a couple of nights. I had a blast then and you can check out the summary video below.
Fast forward to 2018, I went to Krabi again mainly because 1. I needed a break and 2. there was a promotion for hotel+airfare+1 lunch+half day city tour+1 dinner+breakfast on all days for only S$368 per person. So I called my friend, Karen, and once her boss approved her leave, it was KRABI HERE WE COME!
Try to travel off peak season
The June holidays were over and it was supposedly the rainy season in Thailand but because of these 2 main factors, we got our package really cheap.  Found this deal through Fave (formerly known as Groupon) so always do a bit of searching around to get the best deals. Needless to say, we flew budget – Scoot. For a 2 hour flight, it was bearable but I really couldn't understand why the flight attendant on my flight to Krabi refused to help me with my luggage. Bear with me while I rant a little.
This is what happened: we were seated at the very last row of the plane and the overhead compartments above us were full. Flight attendant then said to me, "Oh…you'll have to put elsewhere." before pointing to somewhere further from my row. Some of the luggage needed to be pushed aside before I could place my luggage in and when I asked nicely, "Oh, would you be able to help me?" His response was, "Errr…all passengers are supposed to be able to do it themselves." Seriously? Then what are you meant to do in the plane besides taking food orders, heating said foods, opening/closing the doors, showing the motions of what to do in the case of an emergency? Isn't it in your job scope to HELP PASSENGERS? (-_-)
What to bring
Sunblock – especially the water resistant type since you'll be at the beach/trekking/at the pool
Umbrella – to either shade you from the sun or in case it rains
Flip flops and a pair of walking shoes, if you intend to do some walking
Portable fan
Sunglasses
Hat or cap
Swimwear
Waterproof casing for your phone or just your GoPro to take awesome photos
Rustic chic at Pakasai Resort
Our trip was 4D3N and we stayed in the green Pakasai Resort, which is located a convenient 5 minutes away from the beach.
View from the chalet located at the top most floor
Although the view from the top most floors of Pakasai are quite nice, it is really a hike up so this is not that great for older folks nor if you're thinking of going for adventure tripping and will be back in the hotel when energy levels are a bit down. Although our travel agent requested for a room with a view, we opted for one without the view and almost on the ground level.
Our spacious deluxe room
We had requested for 2 twin beds but it turns out that their original king sized bed was already made of 2 singles. So all they did was to separate the bedding but it was still on the same bed frame. There was a day bed in the room too, so technically, this room can accommodate 2 adults and a child easily, without ordering for an extra bed. The room is large enough for 4 adults too.
The feel of the resort is a lot more rustic, a deep contrast to their sister hotel Red Ginger Chic, which has a more modern vibe. You can read my review on Red Ginger here, based on my previous visit and stay there. Pakasai also tries to engage their guests with Thai culture with daily tea featuring local snacks and sweets as well as traditional art from 3-5pm. Best part? It changes everyday so you can look forward to an interesting treat if you ever are in the resort during those hours.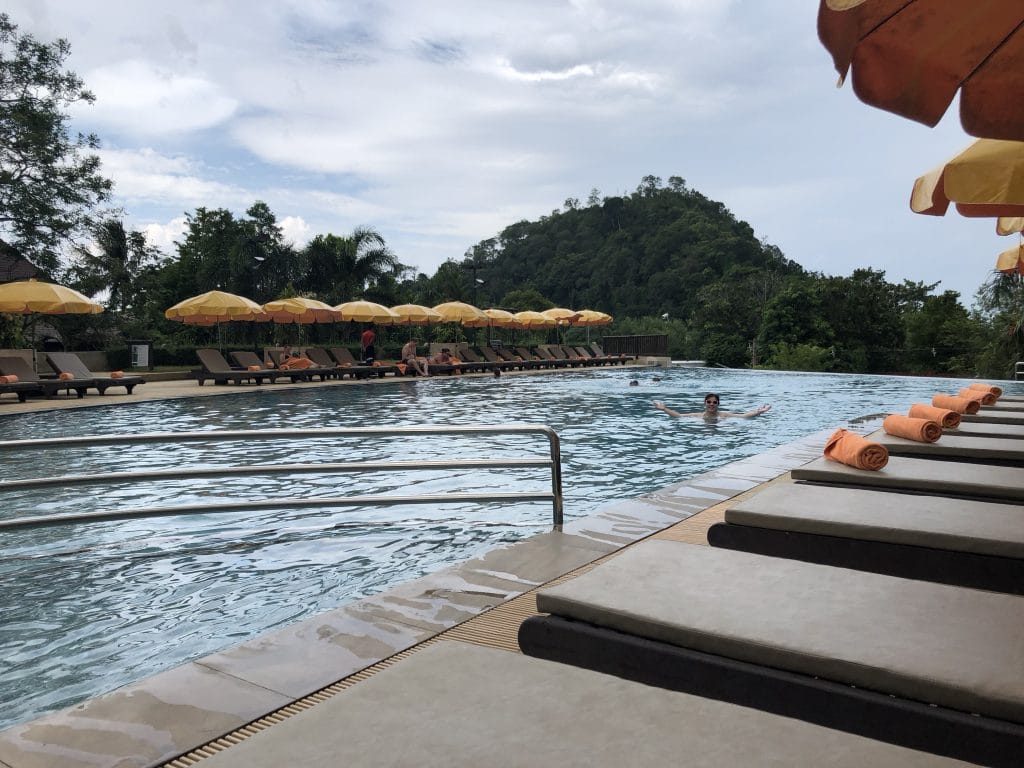 Pakasai also boasts an infinity pool but honestly, the view isn't much to boast about as it is only one floor above ground and you only see trees, the neighbours and the road.
Instead, I think the view from the other side of the pool, facing the mountain and lush greenery, was a lot more calming. They've got nice daybeds there too where you can chillax and sip on a mai tai or some other cocktail.
The view from the restaurant
Our package included one free dinner from the hotel as well and their restaurant is right next to the pond so you get a bit of 'nature' while not being too far from your room. I really liked how they also provided a bottle of insect repellent to us to prevent those pesky mozzies from biting us.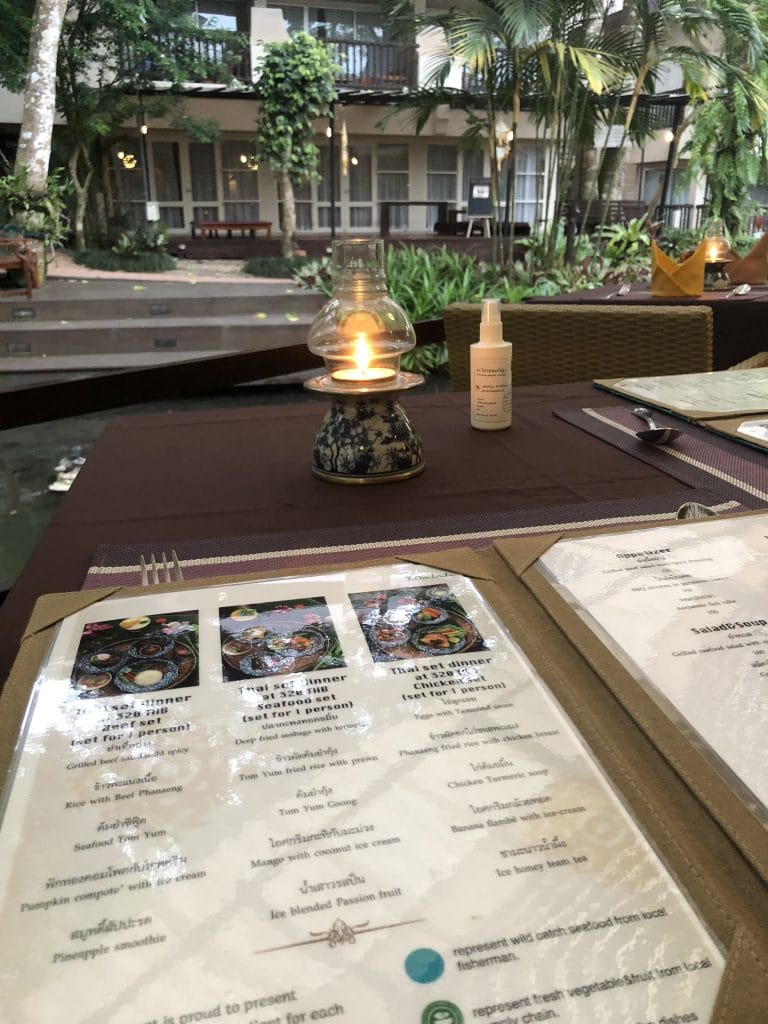 The sets were not too expensive at THB320 (approx S$12) each when you think about it being in a hotel and we soon also found that eating in a restaurant next to the beach would easily cost us THB500 (approx S$20) each.
Our Thai Beef Set
The Pineapple Smoothie
I changed my dessert from Pumpkin Compote to Banana Flambé but honestly, I was just disappointed that there wasn't any coconut ice cream. Otherwise, it was so-so end to the meal. The meal was generally good but I had to add in a squeeze of lime to their Tom Yum soup in order to give it a kick.
Our free city tour + duck noodles
As I mentioned earlier, there was a lunch included in our whole package and that was Duck Noodles. It was redeemable immediately upon our arrival as our flight touched down at about 12.30pm.
The duck noodle was really good and it tasted a lot like the Boat Noodles that I tasted from Gu Thai. Best part about this eatery is that it's almost in the middle of nowhere, in a shack-like place where there are almost no English words but there were lots of locals there. In other words: not a tourist trap.
The duck was fall-off-the-bone tender and the soup was really rich. The dried chilli in the condiments tray was SPICY, so a little went a loooong way.
The rest of the tour was then the regular touristy stuff. First stop after lunch was the Tiger Cave Temple but tiger is really a bit of a misnomer because there aren't any tigers in Krabi. It was probably a leopard.
It's one of the listed Top 10 places to visit in Krabi and if you're the type who likes to hike or trek, then you'll want to climb up to the top of the mountain and gain an awesome view of Krabi and the Andaman Sea.
There wasn't much after this Tiger Cave in terms of the tour. We were brought to Krabi Town and then to a shopping centre there (we made good use of our time in the supermarket) followed by a Premium Shopping Village (my prediction is that it'll go bust within the year). And then we ended the tour with a photo session with giant mud crab sculptures.
Hot Spring and Emerald Pool
Again, these two spots are on the list of Top 10 places to visit in Krabi so we decided to go for it too because who doesn't love saunas and hot springs? We booked a half-day tour from the hotel for THB 1,200 per person (approx S$48) and it is definitely cheaper this way than to book a Grab car because the Hot Spring was a good 1.5 hour ride from our hotel and would've already cost us THB 1,200 return per person if we went to the Hot Spring by ourselves by Grab.
The Hot Spring pools that were naturally created in the forest were super crowded and it was kinda tough to find a spot to go into. That's why we went to the less crowded man-made pools to soak our feet. I would've loved to dip inside but a look at the moss and algae had me put off totally. Ahh…how I miss the cleanliness of Japan's hot springs.
The Emerald Pool was really refreshing after the 800m walk from the entrance and it was really slippery too. Be careful when you're walking around there because the water isn't accumulated from rain but from the ground within. Therefore, we found streams of water where there wasn't any a few minutes ago and there were a lot of rocks – not helping with the slippery factor. Sliding in was easy but sliding out was a bit tougher. There are several pieces of rope hanging around the circumference of the pool but you had to pull yourself up and kinda slide on before getting up. Nope…not the most glamorous sight. But it was fun swimming around in the natural clear waters and I could even see some fish swimming around. How they ended up in there was quite a marvel.
Ao Nang Beach

In my previous trip, I did spend some time sunbathing at Ao Nang Beach so needless to say, I did it again. A lot of people find it weird that I'm so fair and I want to bake myself in the sun while others are using whitening products to achieve my fairness. Well…I don't want to be too white…I want a bit of a healthy glow. If you know what I mean.
Anyway, the problem with Ao Nang beach is that it's a beach with quite of deposits so there were a lot of pieces of driftwood etc in the sea. Also, the waves were quite strong although the beach itself is quite shallow. Thus, I was quite afraid of going further out although the water barely reached my knees. Safety first. Moreover, my friend doesn't know how to swim.
Not sure about the other hotels, but at Pakasai and Red Ginger, they provide beach towels and mats for guests so you can grab them, go to the beach and even pack a picnic lunch/snacks from the nearby 7-11. That's a good way to enjoy the view while having your meal.
Other tips to save money
Honestly, there's nothing much to shop for in Krabi and a lot of the merchandise sold there is a lot more expensive than you would pay in Bangkok. Hence, save your money for food and massages, which were surprisingly very cheap. We had full body oil massages for THB 350 (approx S$15) an hour and we even tipped the masseurs another THB20 for a relaxing time. Went back the next day for a foot reflexology + shoulder massage for only THB 250 (approx S$10) per hour. I have to say that I still prefer the foot reflex that I get in Singapore and Malaysia but it was relaxing enough that I fell asleep in the chair.
Mango Sticky Rice where the huge mango was cut fresh and the seed was really thin
Although Krabi has a famous night market that runs during the weekend, there is a night bazaar of sorts at the end of Ao Nang Beach, relatively near Pakasai and Red Ginger Chic, where there's cheap fruit (hello Mango Sticky Rice for THB 100), barbecued meats and seafood, Phad Thai and dessert pancakes. They're a lot cheaper than the restaurants facing the beach and you can grab some beers from the convenience store next door to complete your meal.
All in all, I spent another S$208 for the 4 days that we were there and I think that that's a pretty good deal!
---
Photos by Melissa Fann