Thanks to Sample Store, I was treated to a complimentary Energy Boost Facial at Lynn Aesthetic. Their Energy Boost Facial is also called the "Lift & Shape" treatment and it focuses on moisturising and hydrating the skin through the use of collagen. This is great if you want to fight the visible signs of aging and relieve stress.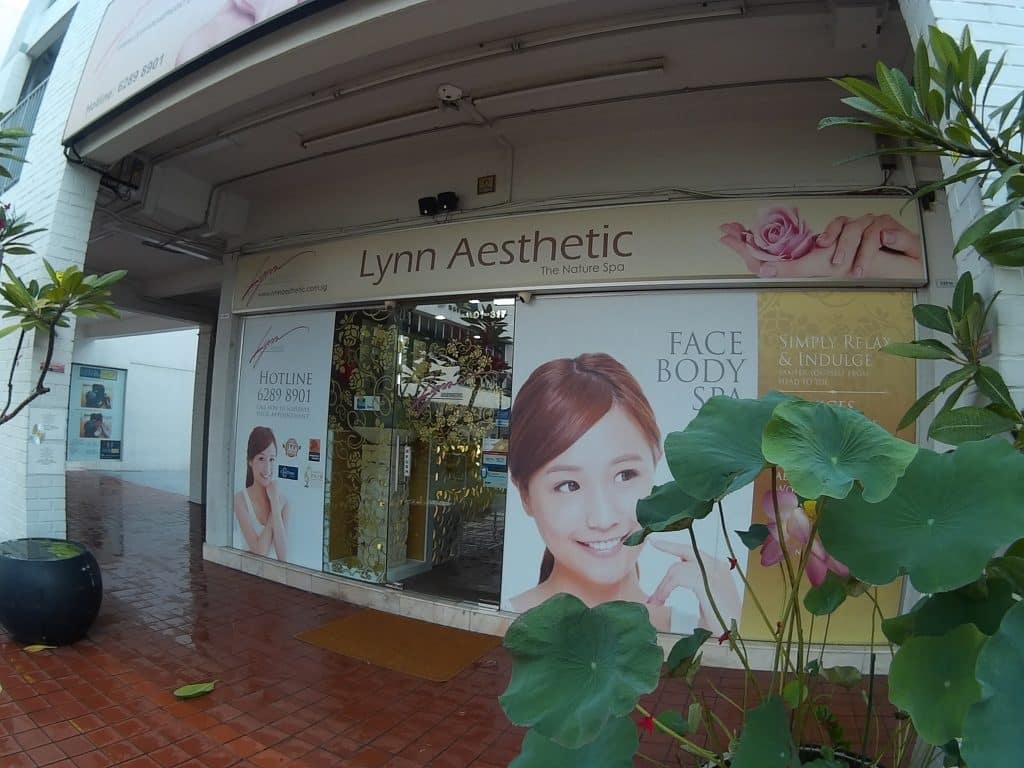 Nestled in the middle of HDB flats in Hougang (Blk 211 Hougang St 21, #01-317, Singapore 530211), Lynn Aesthetic has been here for the past 31 years, catering to residents in the area. The lady boss' love for nature is prominent from the large plants outside the shop with little fish in the pots where the lotuses are!
As it is almost Chinese New Year, the store is decked out with Chinese New Year decorations, which I later found out, were done all by the staff. It definitely was bright and cheerful when you enter. Judging from the pamphlets at the reception, again you could tell that this spa is very woman-centric and do have a lot of products and services that cater to our every need – whether it be pampering or leaning more towards cosmeceuticals.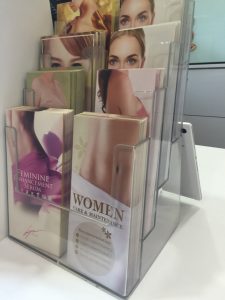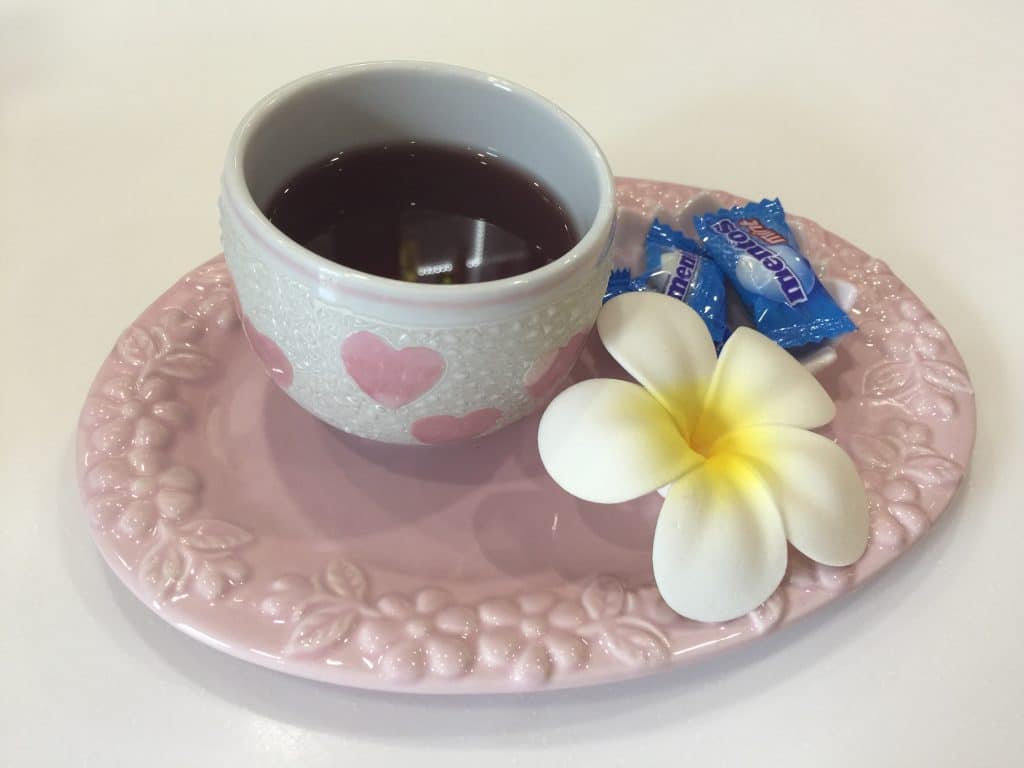 I like the subtle touch with the fruit tea that they served me while I was filling up my details in the form. That flower isn't real but it does make you feel a little more cheerful.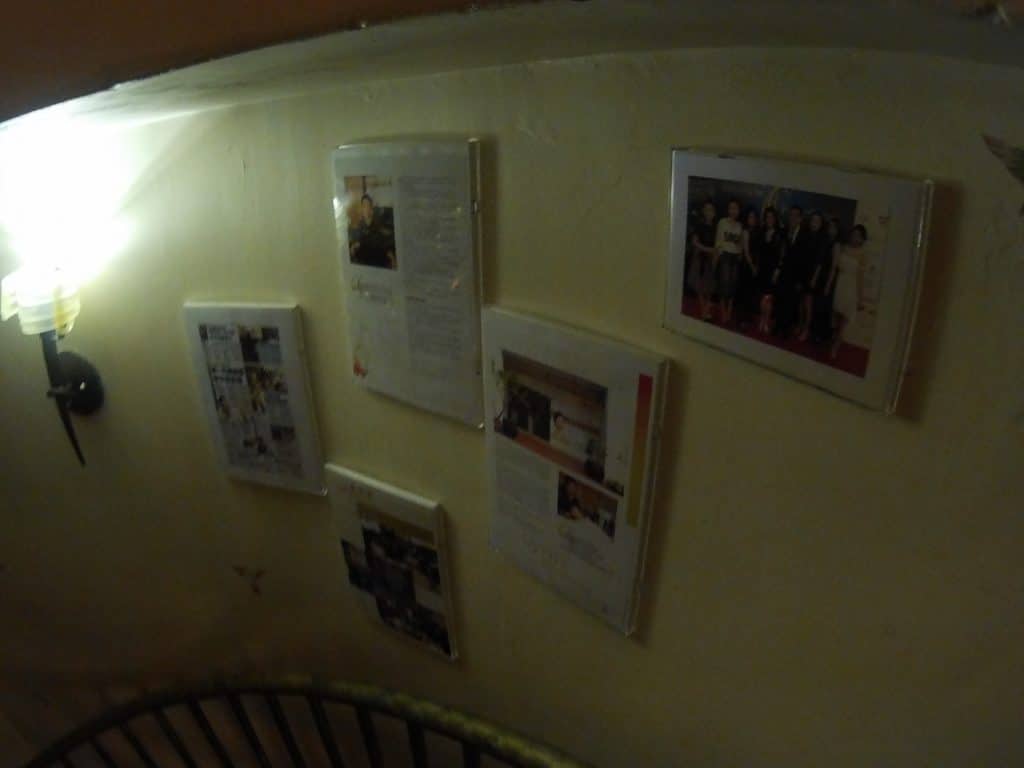 I was pleasantly surprised at the size of the spa! There is actually a second floor and while climbing up the stairs, you do get to see some news articles where Lynn Aesthetic was featured. Goes to show that they've been around and have been acknowledged accordingly. At that point, I was starting to feel a lot more excited about my facial!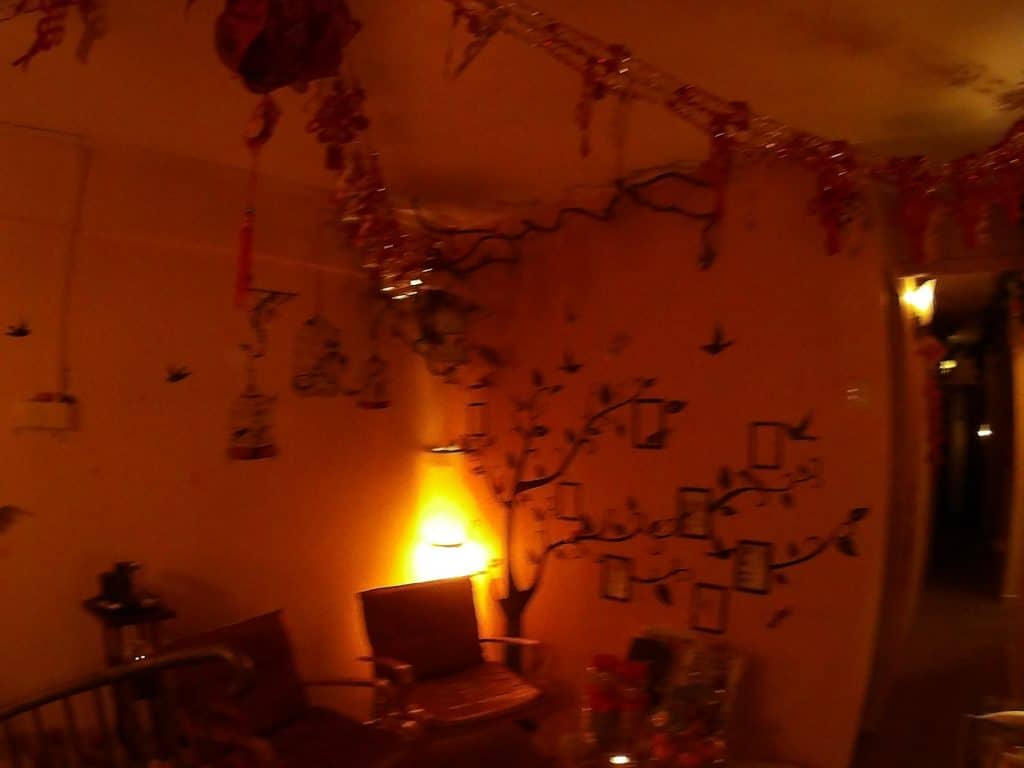 Unlike downstairs, the second floor is a lot dimmer, understandably to create a more relaxed ambience. However, it does feel a little like I've stepped into a friend's home for a sleepover. Those small cupboards that you see on the bottom left corner of the above photo are actually lockers for you to keep your belongings.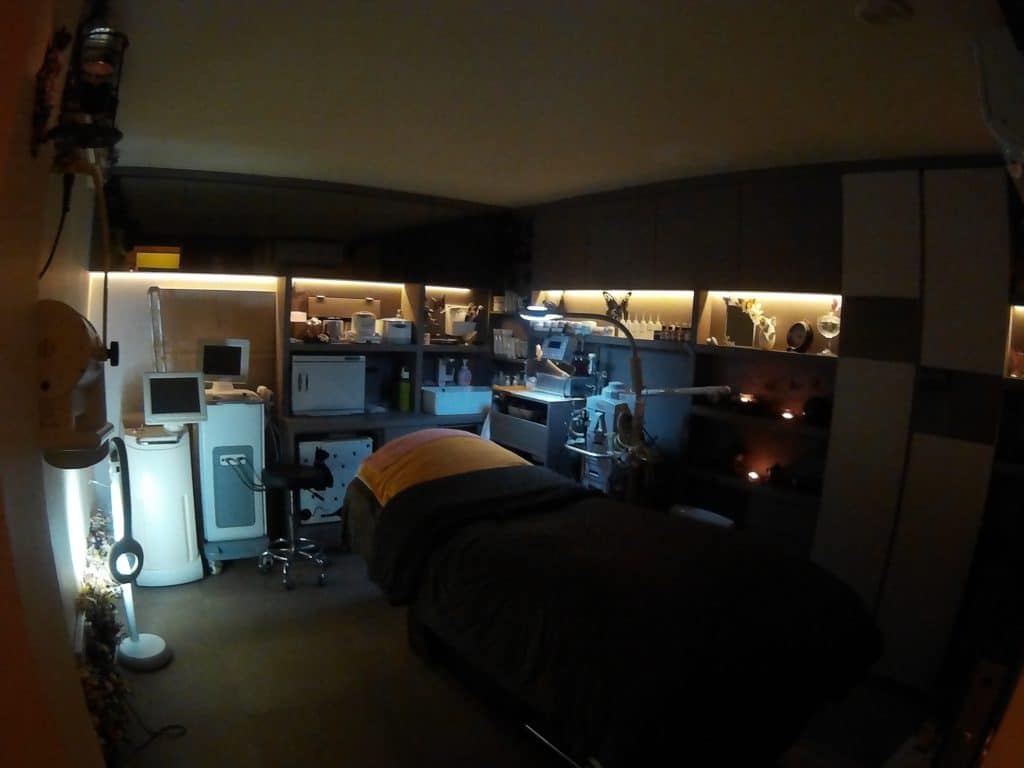 The room that I was showed into was named "Lynn" and my therapist, Kate, told me that each of them are assigned a room and this is the boss' room…hence it being called "Lynn". The room was decorated with a lot of butterflies and this is because Lynn loves butterflies. It was very spacious and the bed was very comfortable with a nice thick duvet.
So this is me just before the facial. This was taken in low light so pardon the slightly blurred tone because I didn't want to use flash. I also have to apologise for looking rather irritated although I wasn't. It's just my usual RBF (resting b***h face for those who are clueless) and my lack of love for selfies. Anyway, I digress. The aim of this photo is to show you that my skin is looking a little dull because the recent erratic weather has caused my skin to go haywire. My cheeks were very dry and itchy, almost bordering on having a bout of eczema, while my chin was breaking out with tiny pimples. I've been laying off on using my Clarisonic on a daily basis to prevent more irritation on my cheeks but that also meant that the blackheads on my nose were having a field day.
Now, a little bit more about the actual facial. If you are 20 to 34 years old and do not have dry skin, you may want to try out their "Young & Trendy" facial instead as that is a detox facial aimed that aiding your skin's natural ability to heal itself to boost its condition. Since my sensitive skin was roaring for moisture, we went for the Energy Boost facial but with a slight twist, which I'll mention later.
As per all facials, my face was first cleansed and toned before steam was applied while Kate used this interesting contraption to suck out my black and whiteheads! Love this painless method of getting them all out but of course, I couldn't escape the manual one due to stubborn blackheads that needed a bit more 'attention'. I must say that Kate was very very thorough and spent quite a long time examining not just my nose, cheeks and chin but she also looked at my forehead and side of my head for lurking blackheads.
After she was happy with her work, Kate went on to help me trim my eyebrows and then used essential oils to stimulate acupoints on my face. The mild aroma from the essential oils did greatly help to ease my blocked nose which happened due to the extraction. Once that was done, a cold machine was used to apply the ampoule onto my face. This is to soothe the redness and dry cheeks, as opposed to using Light Therapy which is part of the usual treatment. I could immediately feel my skin be less angry and I was again getting relaxed from the gentle massage.
I was given lip and eye cream  before a mask was applied on my face and while it worked its moisturising magic, I was further lulled into relaxation through massages on my neck, shoulder, arms, hands, feet and head. I believe I did fall asleep some point in between.
Alas, all good things must come to an end and once the mask was removed, it was toner and sunblock!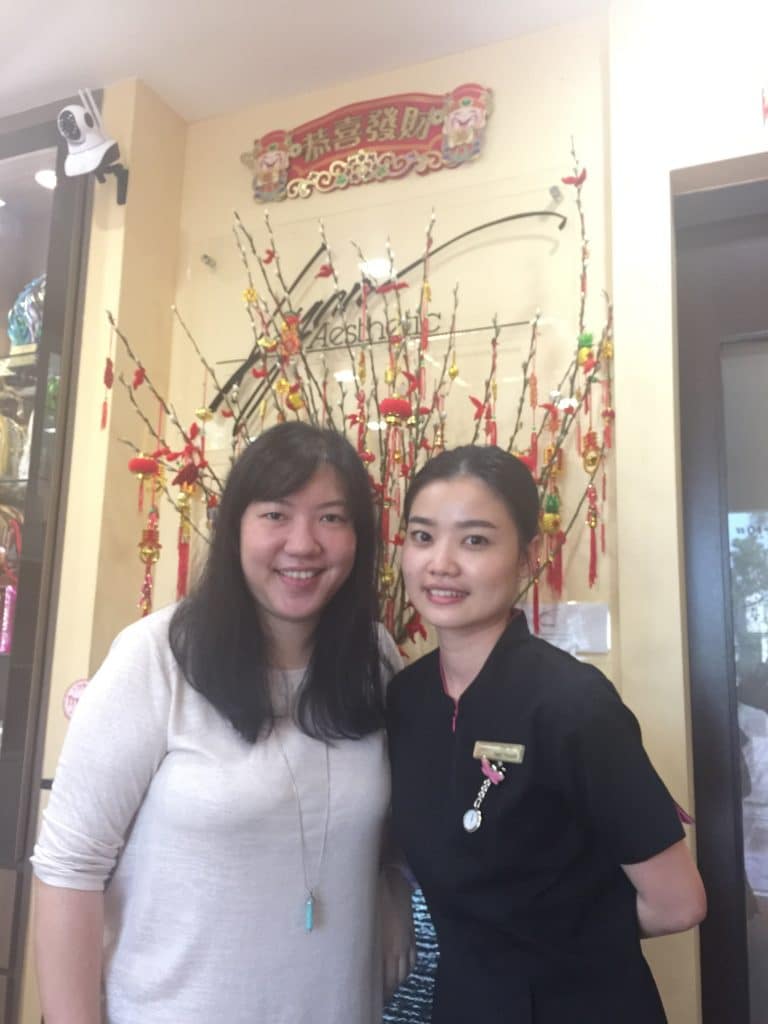 So that's me with my therapist Kate and as you can see, I'm looking a lot more radiant! Kate did a SUPER thorough job in removing my blackheads that I don't think I've ever seen my pores so clean before!!
As you can see from my 'Before' photo, the pores on my cheeks were quite visible and were obviously clogged. In he bottom "After" photo, it's a lot smoother because the blackheads have been removed! Mind you, I didn't use any filters or photoshop in these photos.
Another thing was that my cheeks felt supple and they were no longer dry. Something that is very important because the dry, itchy skin means that it may turn into eczema and that's not something that I'd like to deal with because steroid creams will only thin my skin further.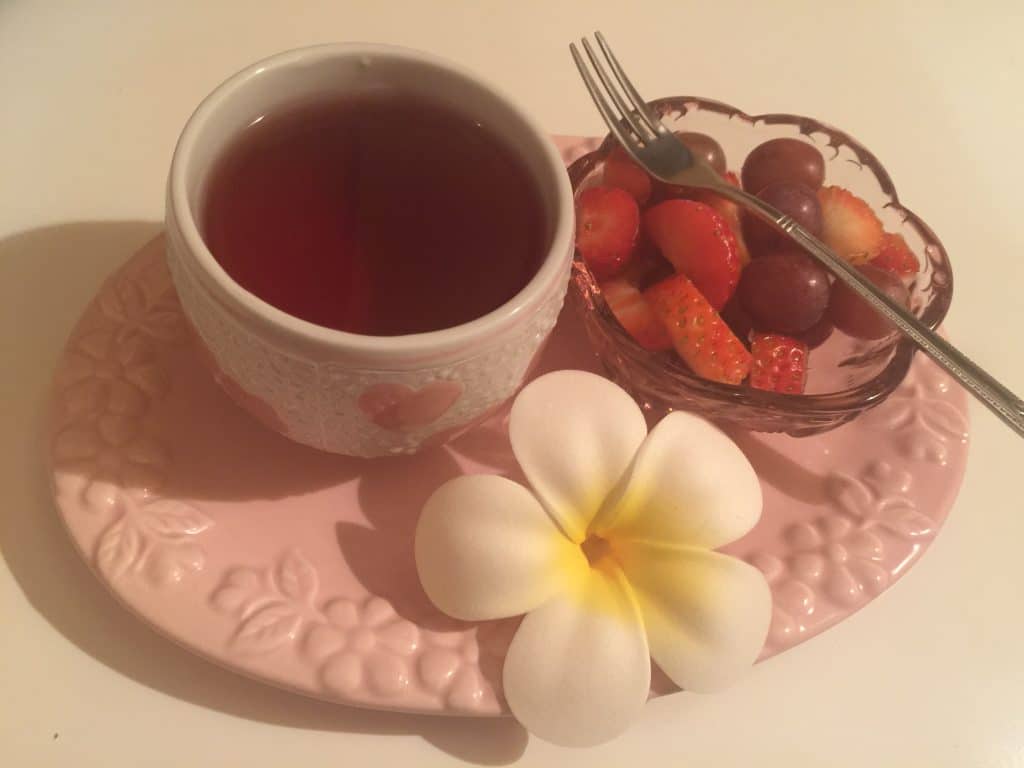 The whole session then ended off on a lovely fruity note and if you don't like fruit tea, they do have a ginger tea option as well. Kate also shared that all the staff at Lynn Aesthetic is personally trained by Lynn herself and they often get new trainings every other month. This only goes to show how Lynn Aesthetic invests in their staff in order to ensure the highest quality treatment and service clients will get.
What further impressed me was that I received a call from Kate yesterday to find out how my skin was after the treatment because she was concerned due to how sensitive and dry my skin is. Although I did get a little bit of a breakout (quite normal after some facials), I declined her offer to go back to do further extraction.
Overall, I quite enjoyed the whole 2.5 hours that I spent there and I walked out feeling quite rejuvenated. If you'd like to read other reviews on Lynn Aesthetic, head onto https://www.samplestore.com/lynn-aesthetic-facials.html.
To find out more about Lynn Aesthetic or to book an appointment with them, do visit their website at http://www.lynnaesthetic.com.sg.