You must be thinking, "Which one?" or "What are you referring to?". Well, I'm talking about the ONE skincare that is approved by dermatologists, make up artists and even celebrities! The ONE, my dear friends, is Bioderma. I do have sensitive skin, so I was really thrilled to receive this set to try out!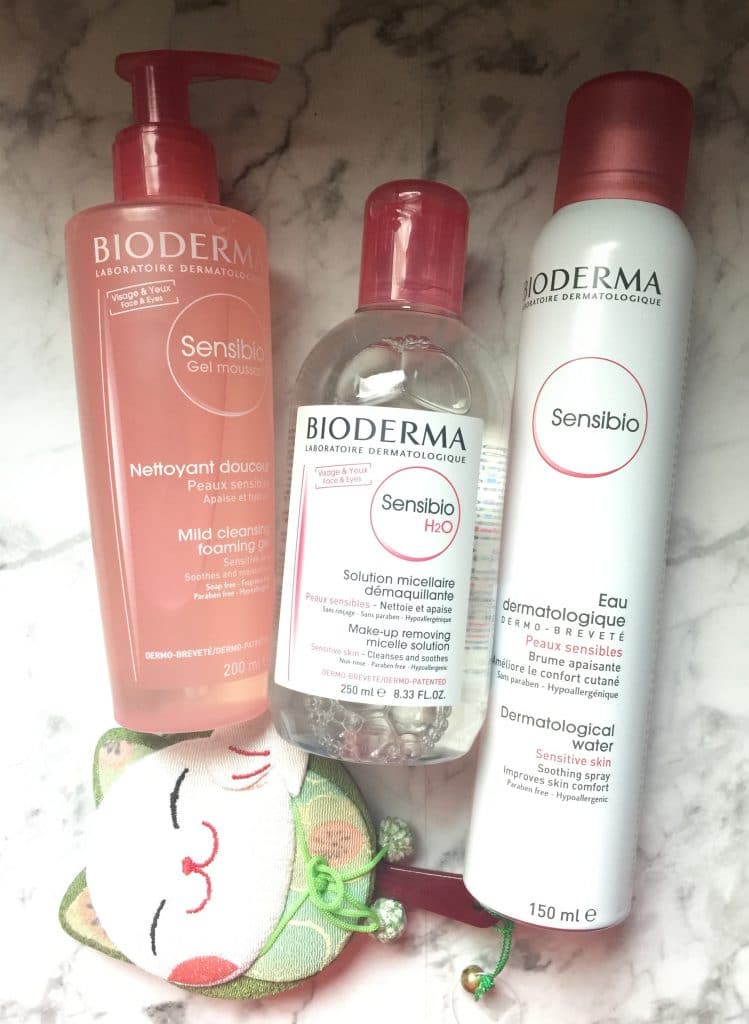 Now, let's test out the Sensibio H2O (S$28.90 for 250 ml) which is supposed to be a make-up removing micelle solution that cleanses and soothes.
Pardon me acting cute…hahaha…but here I am with full make up on and I have on waterproof mascara as well as Too Faced lipstick in 'Clueless' which has a lot of shiny pigments and is famous for being super long lasting. Let's test the efficacy of Sensibio H2O which is made of highly purified water, meaning that it is the highest grade of pharmaceutical water that is completely free of impurities and irritants, making it a clear choice for sensitive skin.
First wipe and I see that my eyeshadow, lipstick and BB cream came off. Don't get too impressed yet as this is normal for most cleansing wipes. The proof in the pudding is for the waterproof mascara.
Second wipe and it's mostly the BB cream but some of the mascara came off. When I looked in the mirror, I still had some eyeliner left on my lower waterline but most of the mascara has been wiped off. My skin didn't feel dry after using this to wipe off my make up and useful tip: soak a cotton bud in the Sensibio H2O to remove make up from the more sensitive eye area or during your make up process when you've made a boo boo.
I have used the Sensibio H2O once on my make up free face when I came home after a long day and it did help my face feel a bit more refreshed. Also, I have found that the Sensibio H2O very useful in dehydrating some of my older cleansing wipes. I also liked that there wasn't a strong fragrance.
Since the Sensibio H2O didn't remove all of my make up, I had to wash off the remaining amount with the Gel Moussant (S$33.90 for 200ml), which is a new product in the whole Bioderma Sensibio range. It looks almost like water here and if you're familiar with oil cleansers, it has the viscosity of that but it washes off immediately upon contact with water.
Since I had waterproof make up on, I did it the oil cleanser style – slap on the gel moussant first before rinsing off. Another time, I tried it the other way around where I splashed water on my face first before using the gel moussant as per instructions. I have to say that if you do have waterproof make up on, use it on your dry skin and then rinse off. If it's normal make up, it doesn't matter. Tried and tested.
This is not a good product to use if you have a Clarisonic. Which means that you will need to scrub your face weekly if you choose to use the gel moussant as a daily cleanser. It doesn't leave you a squeaky clean feeling but a more moisturised feel but rest assured that your face IS clean.
Another new product in the Bioderma Sensibio range is their Dermatological Water (S$19.90 for 150ml) which comes as a spray. I was the most excited about this one actually because my sensitive skin tends to get a bit irritated and dry during the course of the day and I didn't want to slap on more moisturiser as that may be too rich.
It was a super hot and sunny day (typical in Singapore) and this is often the kind of day where people like me are prone to either a heat rash or eczema attack. That is why the Dermatological Water spray came in really handy because when I sprayed it on my face, it cooled my skin while hydrating it at the same time. I've also used it in air-conditioned rooms and it really helped soothe my skin, preventing any dreaded outbreak of rashes or eczema.
If you have sensitive skin, you might really want to consider the whole Bioderma Sensibio range which extends to toner, moisturiser, eye cream and face mask. They're really affordable and convenient to get at your nearest Watsons, Guardian, Unity, Robinsons, even at Tan Tock Seng Hospital and the National Skin Centre.
Claim your free 3-day Bioderma Sensibio trial set from Sample Store here. Find out more about the other Bioderma products at www.bioderma.sg.