We live in the age of online shopping, mainly because of great deals and the ability to have large items delivered to your place conveniently! Recently, a friend of mine had 80% of his new home decked out from items bought from Taobao (I'm talking his bed frame, the dining table and chairs, shelves and even cutlery!). Yup, the man did more shopping than most females I know.
But what if I told you that you can get cash back on top of these great discounts?
Getting Cash Rebates
That's where ShopBack Singapore comes in dandy! I like that when you first join and buy through them at any of their 500 listed vendors, you immediately get a $5 bonus! I happen to need a new shelf so I managed to find an ideal one from Lazada which cost me only $36 but I had 5% cash rebates on that!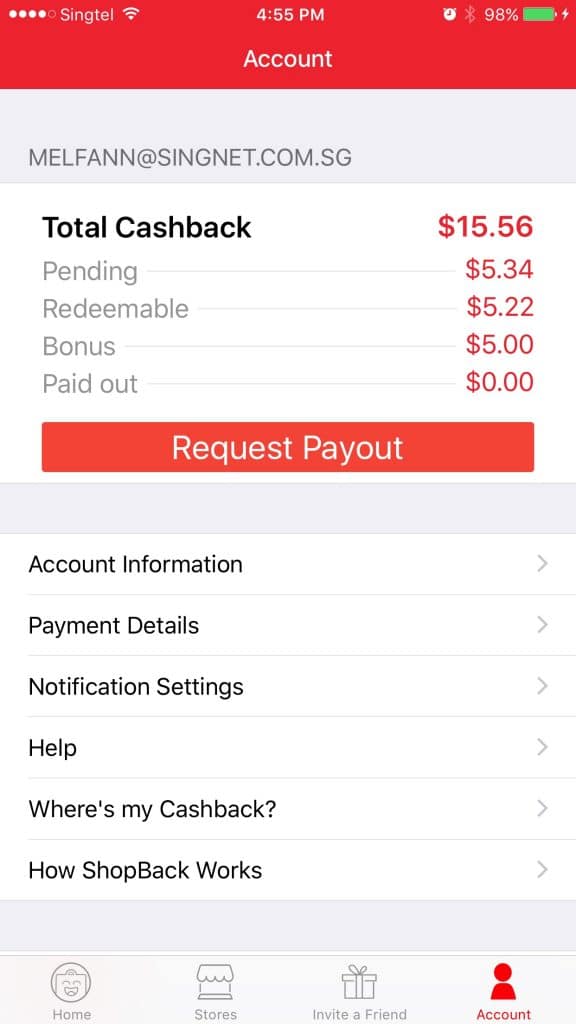 What I really like about ShopBack is not just these one-off purchases but how it helps me save for regular purchases. If you're a frequent Uber (or Grab) passenger like I am, you'll truly appreciate that these two companies are also listed with ShopBack and I get $0.20 off the first ride of the day. It does add up if you take it everyday of the workweek (that's at least $1 a week!) and as you can see above, I have accumulated quite a bit of cash rebates and am just waiting to hit the minimum sum of $10 (excluding the bonus amount) before cashing out into my bank account. Do note that different merchants have different redemption frequencies, so you may need to wait a bit longer than others but patience is definitely a virtue.

Now, it may seem like an extra bit of a hassle to go to ShopBack first before going to your favourite merchant but if you're shopping online via your desktop, you can install the ShopBack button to your browser (only for Safari, Firefox and Chrome) and if the merchant you're browsing happens to be listed on ShopBack, you'll be alerted to activate it so that you do not miss out on the cash rebates. This has been very helpful because I have the tendency of going to my favourite online stores first instead of going to ShopBack's website.
Other Online Shopping Deals
Ladies, we do tend to buy quite a bit of beauty and related products that can be both heavy and bulky so it's quite great that ShopBack has merchants such as Guardian listed with them. Moreover, you can enjoy special Watsons promotions found on ShopBack or combined savings with Hermo promo codes and cash back. As mentioned previously, ShopBack has over 500 merchants listed with them, so you can slowly browse through all the beauty stores to find your favourite brands and save while you shop!
Remember – don't just shop smart, shop smarter with ShopBack!