It's no April's Fools joke but MIYAVI finally came to Singapore and had his concert last night at Big Box. My wish from 10 years back finally came true! LOL
Went there with my uni friend Li Yan, who also went with me to L'arc en Ciel's concert
I didn't manage to get any merchandise and there wasn't a lot on sale, anyway. I was a bit bummed about that as I would've bought a CD or T-shirt. I would've thought that there were more items on sale, but I guess J-rock fans are kinda niche in Singapore.
The venue was quite large but we reckoned that it was about 300-strong. We chose the VIP tickets (S$120) because it's really not much more expensive than the standing ones (S$90), we were closer to the stage plus we didn't need to jostle or queue early in order to be at the front of the section AND we got an A3 poster too.
There was a rule about no photography during the concert and boy was security strict! While I was taking the photo above, the security saw me and started flashing their strobe flashlight at me! The girl next to Li Yan also was 'flashed' from the back but she didn't notice until the security went up to her and asked her to stop. Good thing was that they didn't ask us to delete the images from our phones.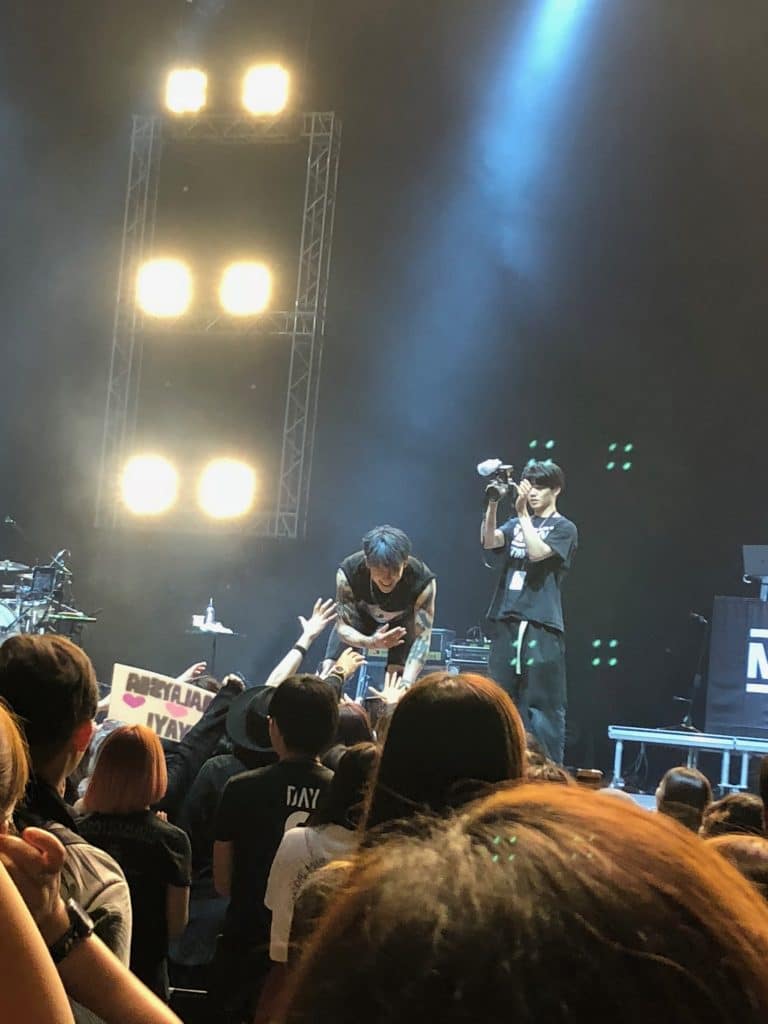 I'm still a bit confused about the set list and this is supposedly it: https://www.kkbox.com/tw/tc/playlist/KseVAM4AhgbL6YlMPZ. I can't say that I recognised a lot of the songs off the bat because Day 2's songs are a lot of collaborations and remixes; and let's admit it, Miyavi isn't known for his vocals but more for his guitar prowess. Thus, quite a lot of the songs had the lyrics sung by his 2 ang moh back up singers.
Loved the energy that Miyavi brought to stage and he was also teasing the crowd mid-way by running in a circle on stage while creating an Instastory. He definitely was loved by us all as those in front were happily jumping and dancing to his songs.
Great part? When it all ended, the houselights came on and it was free-for-all photo taking. Many rushed to the front of the stage to shake hands with him and to take more photos. Again, you could see his cheeky side out as he posed for some.
The concert end in about 1.5 hours' time, which was quite early in my opinion but I guess that it was good considering how it was a Sunday night. Moreover, there was a private backstage meet-and-greet session for those in his fan club after the concert. That kinda impressed me because there's real fan service and get-together!
I'm looking forward to his next concert and I hope that I need not wait another 10 years!