It has been quite some time since my last update about my haircare and I'm still balding because you guys have to remember that my hair loss is mainly due to genetics. Just a quick recap about my hair woes:
oily combination scalp
dry hair ends
thinning hair
hormones going a little cuckoo (I lose a lot of hair just before I get my period)
genetics (my mother's side of the family has hair loss issues)
You've seen me use a lot of products and gone to several places such as Bee Choo, Trichokare and Jonsson. I've finally come up with a regime that works for me and this is just my suggestion. You can try it out and tell me whether it works for you but do note that everyone's hair loss is different due to several reasons. You just need to try what works for you in terms of affordability, time and whether the product actually works for you. Whatever I do is really just to minimise the hair fall and keep existing follicles healthy and prime for more hair growth.
Supplements
I don't take a lot of supplements but I do take Biotin (10,000 mcg) every morning with my breakfast smoothie. I do take a multi-vitamin that contains biotin some times, but I know that it's actually a waste of time but I still do it so that I feel less guilty for wasting the bottle. Do note that this is in addition to the biotin that I already take regularly.
Diet
Due to hormonal issues, I take note of my soy intake so that I'm not consuming too much phytoestrogen. I don't really drink a lot of milk either because I am already taking yoghurt in my smoothies and bovine hormones do naturally make up part of milk. Balance is the key.
Shampoos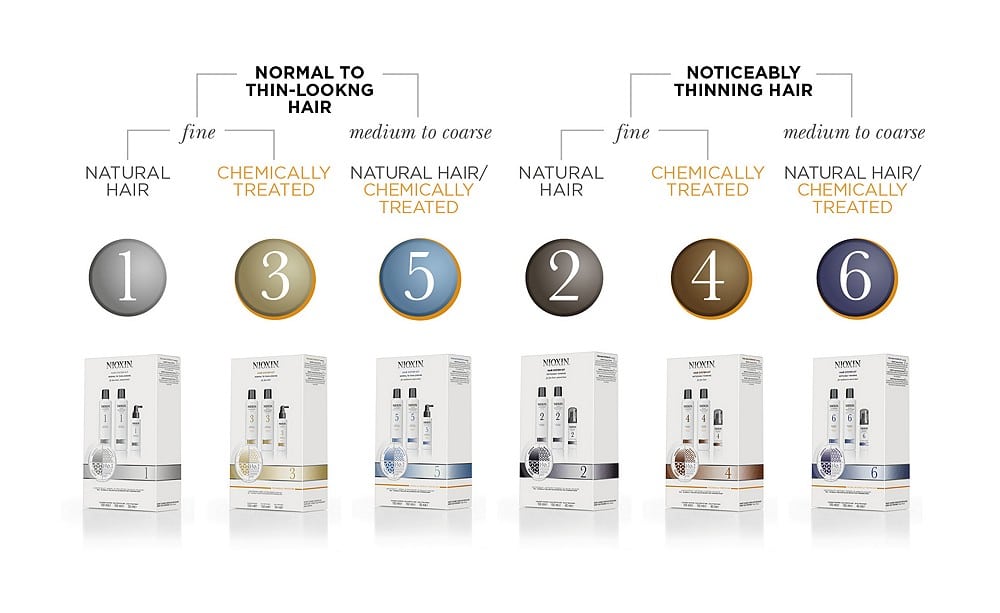 Photo credit: Everythinghair.com
I use 2 shampoos and 1 of them is Nioxin 4 as I do colour my hair to cover up grey. Use the consulting image above to choose the right one for you. This is especially good for people with oily scalp as their shampoos really clean out all the junk from your scalp. You can get yours from Qoo10, salons or from across the causeway at a slightly cheaper price.
Even if you don't use Nioxin, choose a shampoo that really leaves your scalp squeaky clean but not dry as you don't want to develop dandruff. If you currently do have dandruff but you feel that your shampoo does keep your scalp clean, you probably have the same issue as me and that's why you need to have 2 different types of shampoos. One to clean and one to hydrate.

Photo credit: Lisa's Hairshop
I found this Italian brand of shampoo when I went for last year's BeautyAsia Expo where MagicBoo.Net gave me a sample. It is really hydrating, smells like butterscotch and just made my dry ends feel so moisturised. Comes as no surprise that they use coconut oil as one of their ingredients. Thus, I bought the large bottle this year from MagicBoo at this year's BeautyAsia.
What I do is that I alternate the shampoos. I'll use the Nioxin one day and then the Echos S2 the next. Once a week, I'll apply a hair mask (Echos S2) only to the ends to further repair the damaged hair. The sad thing is that I can't find this brand sold anywhere in Singapore so you either can purchase it through Magic Boo's website or wait till they come to Singapore for the BeautyAsia Expo. It's not even sold in most shops catering to salons in JB! Thus, my main point is this: find a hydrating shampoo to alternate if you have oily scalp but dry ends, and especially if you have a bit of dandruff. This will minimise the frizz for sure.
Photo credit: MakeupAlley
Bring a small bottle of dry shampoo with you when you're going to be out the whole day and you know that your scalp is extra oily or gets oily when the weather is extremely hot. This will absorb the oil and give your hair a bit of lift, reducing the appearance of flat, thinning hair. I especially like to use the coloured ones as it'll darken the scalp a little, giving the impression that you have more hair than you actually do. Remember to shampoo once you get home though. You don't want this on your pillows nor clog up your hair follicles.
Tonic and Serums
Photo credit: Shinamino
I'm currently using Shinamino Hair Infusion Tonic+ and I find it very effective and much cheaper than Aveda's. It contains rosemary oil, which studies have shown to be a natural compound that lowers DHT, the hormone that causes hair loss; ginseng and nettle. All these have been proven from ages ago to lower inflammation and promote cellular growth. However, do note that anyone who has had cancer should not use and/or consume any products containing ginseng.
I'm also using Le'masque Hazelia Hair Regeneration serum but I can't seem to find the link on MagicBoo. Again, I bought this during the BeautyAsia Expo and I do find that it's quite effective in repairing all the frizz. I mix this with my serum before applying to my hair. As for a serum, I prefer those with organ oil as it's much lighter. No preference in brands as I do switch around on hair serums.
Just a little extra
If you are going to be a bit more hardworking, here is a pre-shampoo regime that I do at least twice a week. I mix a 15ml of 100% pure therapeutic grade of rosemary essential oil with 20ml of coconut oil and a bottle of the Hazelia Regeneration serum into a spray bottle. Then, I spray that onto my scalp and massage, leaving it on for about 30 mins before I shower. I tend to use this on my Nioxin shampoo days so that I know that all the oil will be shampooed away. This is like a pre-shampoo tonic which protects your hair from being over stripped of moisture while also allowing the scalp time to absorb more of the rosemary. If you want, you can also steep some nettle tea and add that to the mix but try to add about 20-30 ml of the tea and remember to shake vigorously before applying. Some people suggest aloe vera juice but I'm not sure how long that'll keep outside the fridge, and I'm lazy – I like all my stuff in the toilet for easy application.
I do blow-dry my hair for days that I go out and this is to add volume as well as to straighten out my frizz. But I do let my hair dry naturally when I'm staying home so that I don't over heat and dry out the already damaged ends.
I do use my Hairmax from time to time but as mentioned, I don't see any hair growth but a trichologist and a dermatologist have told me that it's just to kill off bacteria…so…hmm…?
Hope all these tips help and perhaps I'll do a post one day on how I cover up my thinning hair..although I don't think I'm very effective at it anymore…LOL. A lot of my friends do notice it now 🙁 Oh well…life still goes on.