Sorry this came a little late as I've been really quite busy with work and all. However, let me introduce you to my new obsession: Tokidoki! Alright…it's not quite new and I've always liked their unicornos and the Grim Reaper. But I do have a friend who really loves the Meriunicorno and Unicornos so I'm not alone!
Imagine our excitement when it was announced that Kumoya would do the world's first Tokidoki pop up cafe in Singapore from March to end June 2018! Needless to say, we made a point to go there (on a weekday afternoon no less) and just soak in the Tokidoki-ness. Do go there on a weekday, if you can, and be prepared to queue so bring along a handheld fan as it can get quite warm and they do not take reservations.
But you can take the opportunity to take a photo with the large figurine outside the cafe while waiting for your turn! Which, of course, I had to do. Do take note that there's a minimum spending of S$10 per person (which is easy to hit considering that a drink starts from S$12.90++) and they might limit the time to 90min per table if there's a really long queue. Prepare about $50-60 per person because besides the food and drinks, you'll definitely be tempted to buy the merchandise.
Panoramic view of the cafe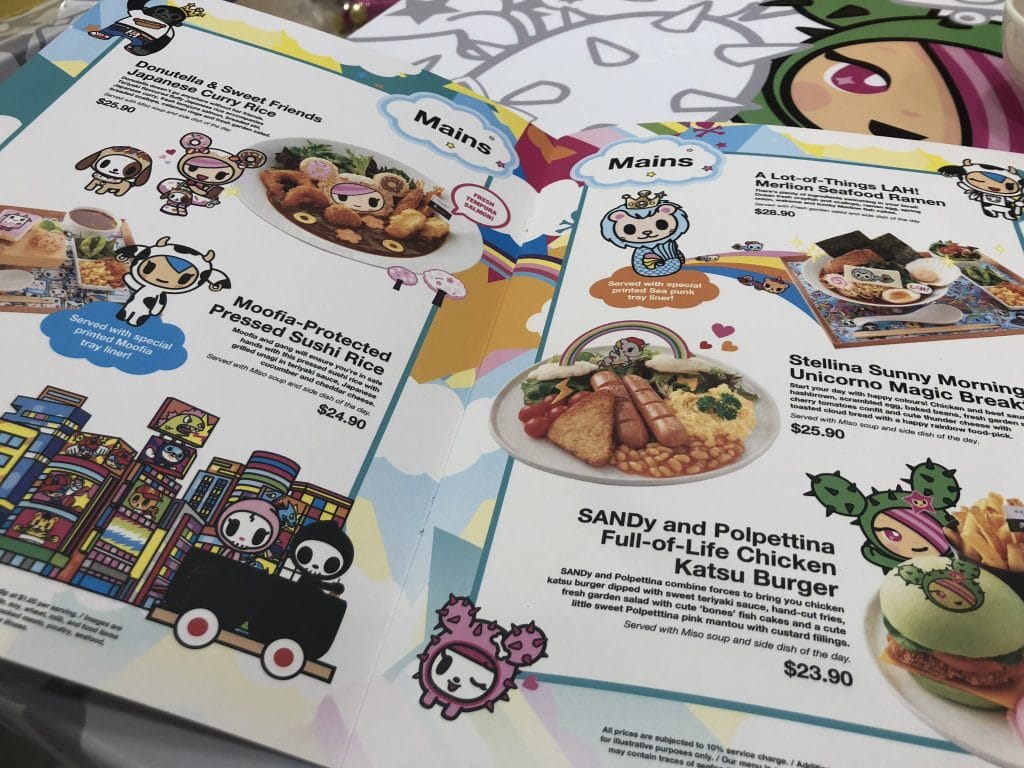 The menu was curated and styled by local food stylist Shirley Wong (Little Miss Bento)…so expect a lot of cuteness on a dish! Some of the drinks come with complimentary floats or coasters so you might want to factor that in when making your choice(s). Here's what we ordered:
Donutella and Sweet Friends Japanese Curry Rice (S$25.90++)
We felt that the Japanese Curry Rice is the most value-for-money among all the mains as it has some tempura prawns, fish nuggets, breaded squid and scallop in a bed of Japanese curry, served with rice and salad. All the mains are also served with accompanying miso soup, edamame and fried lotus root chips.
Adios and Ciao Ciao's Farewell Fantasy Charcoal Waffles Set (S$22.90++)
Dessert was quite substantial and this is great for sharing. The above was Hokkaido Berries soft serve with charcoal waffles, squares of brownies, berries, chocolate chips, cornflakes and fresh berries, topped with dark chocolate sauce. It was really not bad and I think was also one of the more value-for-money items on the menu. Don't expect it to be great. It's just really well styled and oh-so Instagrammable!
Iced Chocolate (S$13.90++)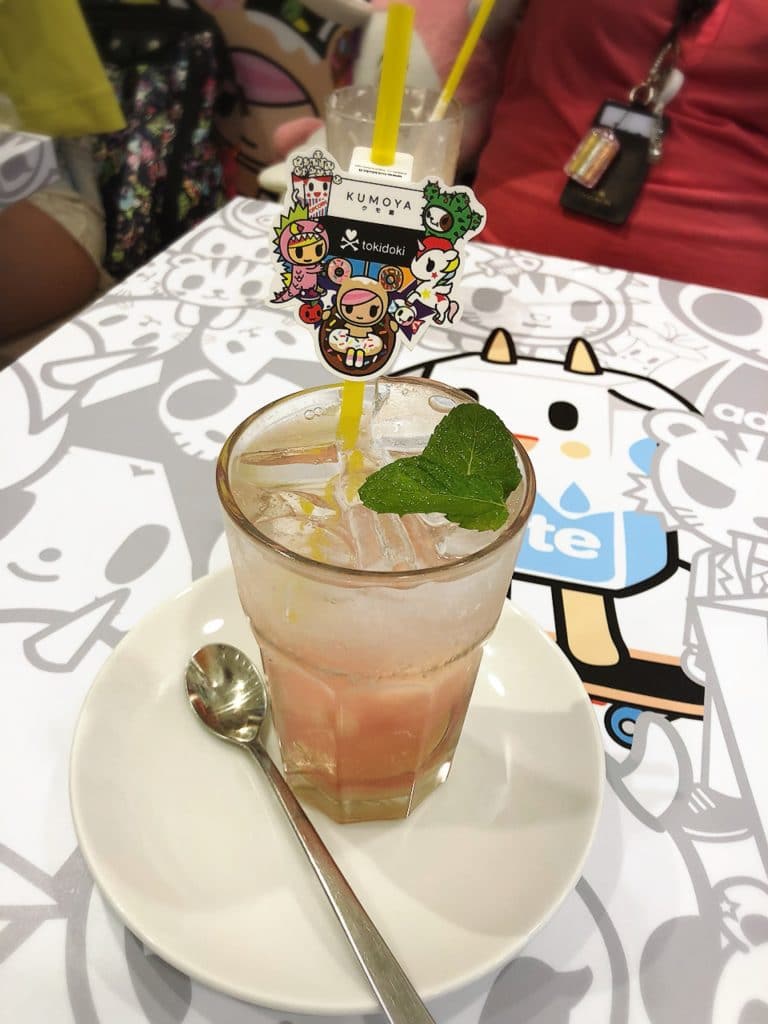 Lychee Nojito (S$12.90++)
All the Frappes will be served with the limited edition Donutella float (worth S$12.90) but my friend and I obviously went for the non-frappe drinks because we had dessert and we wanted the coasters instead. Not a huge fan of Donutella.
You do need to set a budget for yourself because there are so many cute merchandise that you may go a little Tokidoki-mad! Especially when there are some limited edition merchandise on sale. I decided to go for the black unicorno keychain (S$9.90) as this isn't sold that readily in stores. The material is also a little different from the other plushies as it's a bit more cloth-like.
You'll definitely feel like a kid again, with all the large unicornos strewn across the seating areas and ready for you to hug and snap a few shots while waiting for your food to arrive. It's also a great place to bring the kids, but beware the sugar-high. Otherwise, grab your friends and have a great time there, as long as you don't expect phenomenal tasting food or drinks at those prices.
Kumoya X Tokidoki
8 Jalan Klapa
Singapore 199320
Opening hours:
Tue to Thu, Sun
12 to 9pm
 Fri & Sat
 12 to 10.30pm
Closed on Mondays