It's that time of the year where we look at the year in review and think about what we've accomplished, what had happened and perhaps, what are some of our New Year Resolutions. As I think back on 2017, I must say that it has been quite an eventful year. A lot of emotional upheavals and as usual, the universe has an uncanny way of teaching you valuable lessons to learn.
The passing of my dog
My dear Baileys departed this world on 13 April, a few months after he turned 13. I used to say that 13 is my lucky number, but this coincidence with the numbers never failed to make me think a little bit more about the number 13. In a way, his passing was really timely:
he was suffering from an enlarged heart, thus this ensures that he would no longer be suffering
his medication was taking a toll on my finances – costing $250/month and that excludes the check up and transportation fees
his annual license was due in May
The Wellness Insider's official launch was in June…without Baileys, I could fully concentrate on the event without worrying about his health
Nonetheless, I do miss my little one 🙁
BIGO Official Host

In May, I was approached by my former biz partner to start livestreaming on BIGO since I was already doing my Melissa's Table Top Talk on Facebook. With the intention of using it as another platform for my Table Top Talk, it soon became a platform for me to showcase another part of me that I enjoy – singing. Moreover, I found a group of friends through the app who really helped me through a major heartache which would happen later in the year. BIGO has taught me to be more sociable in some aspects while also honing my talking skills. I guess, I'm just playing my usual Aunt Agony role to people, but on a larger scale. If you happen to be on the app, do add me @melfann!
Wellness Day Out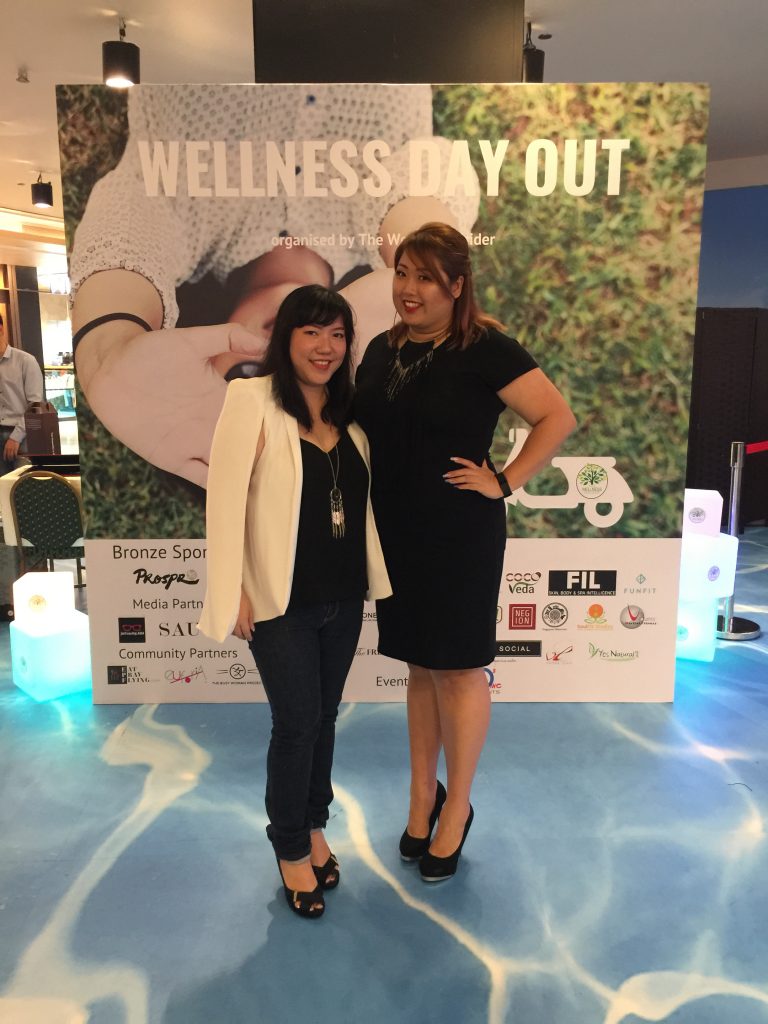 Launch night with Fiona Tan, Miss Top of the World Plus Size 2016 who was also one of the models and sponsors
As mentioned earlier, it was the official launch of my company, The Wellness Insider, and it was marked with a 3-day event held at Capitol Piazza's basement. To some extent, I would call it a success, especially on the first night which saw a fashion show where the models showed how you can easily turn active wear into normal day and even clubbing wear with the right accessories! However, there were some things that didn't go as expected and my budget went over three times! There went all my savings…but was a good learning curve and at least I managed to get The Wellness Insider's name out there.
The event also saw the labour of my love…and the message that I'm trying to spread about positive body image. A lot of people think that body positivity is often about encouraging fat people to be overweight but that isn't it. It is about not labelling or having stereotypes about a person based on their bodies. We showed the video to the media and other attendees, followed by a speech by yours truly and I got so emotional, I choked up. All this was broadcast on BIGO too…oh dear…how embarrassing.
Better to have loved and lost?
I did get into a relationship with someone in early July but in August, I had a sneaking suspicion that he was two-timing me and this was finally uncovered in September. The day I found out, asked him about it where he flat out denied anything more than just an online relationship, was strangely rather amicable until he realised that he couldn't patch things up with the other woman and that's when it became really nasty. Till this day, he still denies cheating on me and he also wouldn't admit publicly to having a romantic relationship with me. Nevertheless, I was definitely emotionally affected and I have to say that it was through BIGO and the true friends that I've met through it who helped me get through the pain as well as betrayal while the platform itself also gave me an outlet to distract myself from this whole issue without over analysing. I'm ok now and ready to mingle…despite a part of me who is quite tired of the whole dating game. Nevertheless, I am waiting (not for Prince Charming) but for my imperfect perfect partner.
Besides romantic love, I also had a major demotion/fall out on the platonic side. Through the behaviour of all my friends regarding my official launch, it became clearer and clearer to me how a friend of mine really is. Her measure of self-righteousness and power is related mainly to income as well as position…which has irked me before but I always gave her the benefit of the doubt. The last straw came when there was no call to help nor well wishes for my important event. She further sealed the deal recently when she did not wish me on my birthday because she was "still a bit mad" at me. Mind you, I just have higher tolerance than 3 other close friends who have already removed themselves from this toxic relationship. Most of us have taken the same course of action – we still are friends in the sense that we want to know any significant happenings in her life.
Sick Dad
My dad was hospitalised for 2 weeks with pneumonia where they found a large ball of pus and fluids in his lower right lung. After his discharge was another week of intravenous antibiotics. What made this stressful for me was that his hospitalisation occurred right at the same time where I had to rush through all the marking for all my 11 classes while also showing up in the hospital every single day. If I didn't, I would get snarky remarks from my mum that I didn't care about my dad or my dad would make a passive aggressive comment enquiring why I didn't show up.
Mind you, we no longer have a helper…so I received snarky comments about not helping with the housework and not having meals with my family if I went out with friends; but I constantly get interrupted to do housework or to help with this or that when I AM at home; because I was home without a helper, I was also spending a lot of time preparing my meals, washing up everyone's dishes etc…basically, doing housework. My concentration levels were not there for any single task because I had to do it all! Again, thank goodness for friends but hanging out with them helped to destress me but also created some sort of stress between me and my mum. Some how, I feel like I'm 14 instead of 34.
To add onto this, I'm really quite annoyed with my dad because his behaviour and attitude is really bad. He expects every meal to be home cooked and simply because he is back on hospitalisation leave, he behaves as if he can't lift a single finger to do simple things while also being irritated with us for not showing the level of care and concern that he would like. Well, there's quite a bit of resentment coming from me because he did not show a single ounce of the care and concern that we have for him when both my mum and I had our respective operations and were recovering at home.
Lord, teach me to have patience.
Wishes for 2018
I am looking forward to 2018. I hope that The Wellness Insider will finally get the evolution that it requires; that I will have more bandwidth to continue this business while also juggling my full time teaching job; that I will find someone who is willing to settle down and is a good companion, and lastly, I wish that I will be more financially stable and stop living from paycheque to paycheque! C'mon 2018! Bring on the good tidings!!