I must say that this year, I really dragged out my birthday celebrations…LOL! It all started on the Monday before, where I collected my cake from ClearSK. Big thanks to them for always remembering to send me a cake since 2014! I chose the Lychee cake because it was small (only 15cm in diameter) and perfect for my family. Needless to say, my parents took the chance to NOT get me a cake. (-_-)
On Tuesday, I went to do my mani pedi as a birthday treat to myself. My friend from BIGO, @Scruffydoo, got me my awesome pink tripod which also doubles up as a bluetooth selfie stick! He was also nice enough to get me 3m, 2m and 1m data cables. I may be a girl but I do love my tech toys! Needless to say, I threw away my old 2m data cable which looked like a rat had nibbled on it.
In the evening, my friend gave me a snack bento! This is a great hamper to give to friends or loved ones because it is a lot more practical than giving a mere flower bouquet. Tropifame really does have a snack bouquet and you can get 10% off with the promo code TROPIMEL10 when you purchase any of the bouquets or bentos at Tropifame.com/shop.
On Friday, which is my birthday itself, the feasting began during lunch where I had requested for steamboat buffet (with free flow xlb!!) at GuoFu. It was about $32 per person after taxes etc, and although the price on their website stated only $23++, that was before you choose your soup base and that ranges from $3 to $8 per soup choice.
The eating didn't seem to end because after lunch, we went home where we cut the lychee cake and had a slice each. Scruffydoo was waaay too kind and met me after to pass me a selfie-light (yes…more tech gifts) and a gorgeous cheesecake which he brought back all the way from JB! It was really pretty as it was covered with red velvet cake and topped with rosettes made from white chocolate.
That evening, I met up with old friends QY and Twin at this restaurant called Fat Belly located at Serene Centre. It's the sister eatery of Sugarhaus and is only available for dinner after 6pm. Reservations are highly recommended. They specialise in interesting cuts of beef such as the Flat Iron and Short Rib which we had that evening. I recommend the Flat Iron (S$23++) as it was a lot more tender than the Short Rib (S$25++). The serving size is perfect for us ladies and if you're a guy, perhaps you might want to load up on the sides instead OR save your tummy for desserts.
The Short Rib
The Flat Iron
Creamed Kale on the left and the Sautéed Mushrooms on the right
Truffle Fries
Since it's with my ex-colleagues, we also opened a bottle of Cabernet Sauvignon which went really well with our beef. For sides, we ordered the Truffle Fries (not wow), Creamed Kale (yum!!) and Mushrooms (really good). For dessert, we choose 2 scoops of ice cream – Earl Grey Lavender and Hazelnut. It was rich, creamy and just full of flavour.
The ice cream!
Personalised Sticky Date Pudding
We also ordered the Sticky Date Pudding (S$10++) which came with a scoop of Salted Toffee ice cream. I liked how they took the initiative to personalise the plate with a Happy Birthday message although my friend had mentioned my birthday to them only at the start of the meal. The Sticky Date Pudding was really really really good. I was afraid of it being too sweet but they managed to balance the sweet very well with the salted toffee.
On Saturday, I was a good girl and still went for my Fitness Boot Camp in the morning to work off all the calories eaten the day before. That definitely made me feel a little less guilty and also ready for more feasting in the evening with my old friends! My friends came over and it was a pot luck dinner where I roasted vegetables while the others brought wine, char siew, siew yoke, roasted chicken, fried chicken, French onion soup (Kewei slaved over the stove for this *gasp*) and a surprisingly light and delicious Caramel Cake! It was fun just catching up with them over a meal and I drunk at least 3 bottles of wine while talking to one friend till 4am.
Woke up on Sunday with a mild headache and feeling a little worse for wear. I wouldn't call it a hangover per se but I think it was more of a lack of sleep plus a bit of dehydration from the wines that caused me to be less than chirpy. Nonetheless, I still got my butt out of bed as I had another round of celebrations – with my BIGO friends this time round!
With the Bigo peeps!
The gorgeous rainbow cake!
I had organised this KTV session with them a month back and I was super excited to see them all in person! Really grateful to Estrella for ordering the cute and beautiful rainbow cake and to Nova for cheering people up in his dinosaur onesie! It was quite funny how people were a lot more reserved in real life but when we're streaming, we were all really noisy…but everyone soon warmed up with each other and the 3 hours we had together quickly flew by.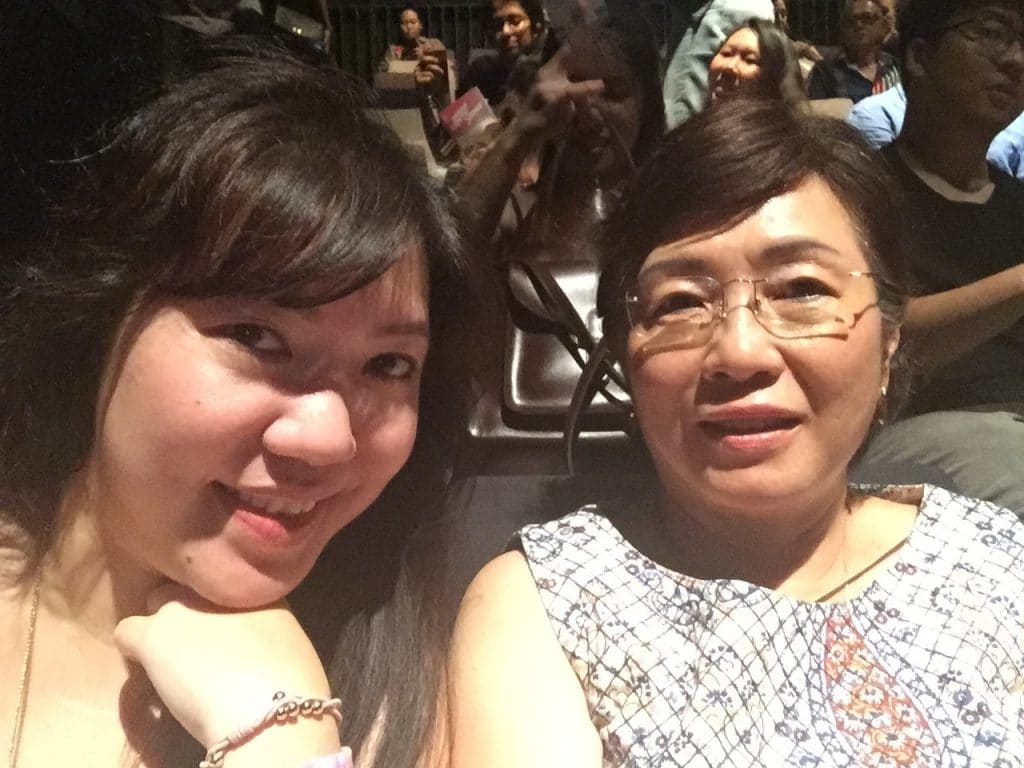 In the evening, I had a date with my mum to watch the play "Grandmother's Tongue" which was also my birthday present from my brother. I really enjoyed the play and it had been a long time since I've heard that much Teochew. Made me miss my grandma as well…I shan't go into the details of the play because there were certain cultural and political nuances in the play but I must say that it was very well directed and each actor portrayed their roles really well!
Needless to say, my birthday week was well spent!!! Thank you for all the love from all of my family and friends! Big MUACKS to all of them!